It's been a whole week and my hair is still alive and kicking with the help of
Kinky Curly Curling Custard
and Honey, what more can a girl ask for! Simply wake up, spray a bit of water and head out the door - Yes, I count my blessings everyday, and Yes, this happens to be one of them. I love to live an uncomplicated life and
Kinky Curly Curling Custard
helps me to do just that!
But I am also an adventurous gal so there will always be something new that I want to try and my new thing will be (drumroll please...lol)
Curlformers
!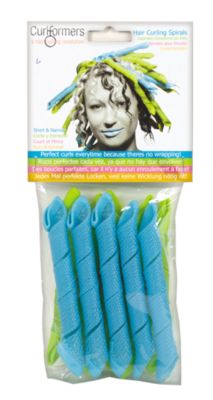 because I wanna know what my hair would like with it. I already bought a packet (8 spiral rods - hook sold seperately), the long and narrow. This is not going to be enough for my hair....Its a whole lotta hair, so I need about 2 more packets, and then I'll try it tomorrow or saturday.